Flipkart Pre-book Deals – Amazing Loot Deals | Book By ₹1 | Must Buy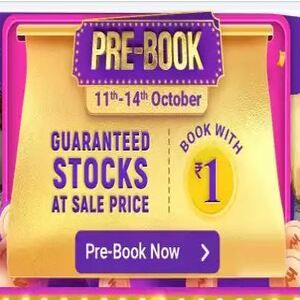 Flipkart Pre-book Deals – Amazing Loot Deals | Book By ₹1 | Must Buy
Flipkart Big Billion Day Pre-book Deals – ShoppingMantraS.com again comes with an awesome sale for you. Flipkart's Biggest Sale Big Billions Days Sale is Coming this month on 17th October 2020 to 21st October 2020. But here is Flipkart started The Pre-Book Sale. In this Flipkart Pre-book Sale, you can book your product at just ₹1 only. After this, the product deal will be blocked for you at Pre-book Price. After that, you have to pay the remaining amount During The Big Billions Day Sale.
How To Grab Pre-Book Deals On Flipkart :
Step – Pre-Book Deal is available From 11th to 14th October 2020
Step – In this you just Pay ₹1 & Block your deal at this price.
Step – Then come back on 16th October & pay the remaining price.
Step – Now you are done !! You are getting a deal on an amazing price which was showing on pre-booking time.
Note:- Make sure you don't miss paying the remaining price on 15th Oct 12:00 pm to 16th October 11:59pm.
---
Pre-Book Deals are better than The Big Billions Day Deals, Why?
As showing in the below image There is Pre-Book Deal price is Rs.*** and the Same product item will be available in Big Billions Day Sale at Rs.****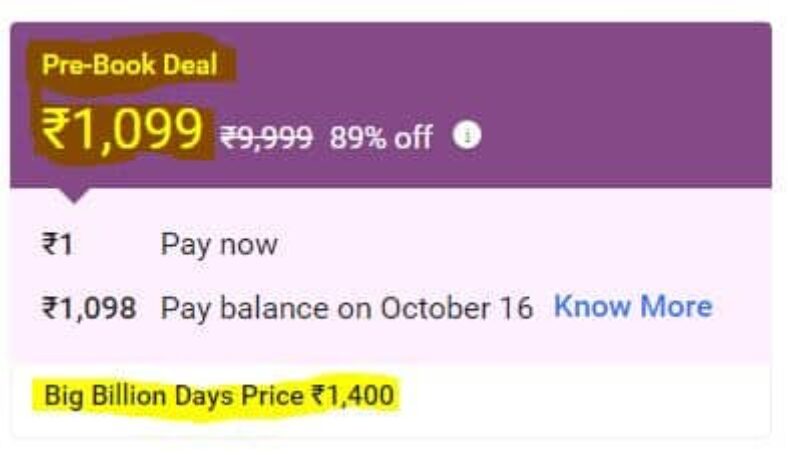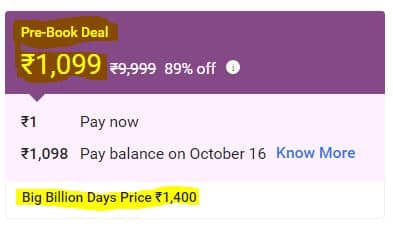 So, You must buy the product in the Pre-book sale. Don't waste time and Block your product at Rs.1. Click on Category Below to Grab Your Deal
Flipkart Pre-Book Deals – Amazing Price
Click on the Button below and grab the pre-book deal as per your preference.
Here are a few handpicked deals. Grab Fast…
Men's Clothing From Rs.159 ⇒ Men's Branded Clothing
Women's Clothing From Rs.180 ⇒ Women's Branded Clothing
Realme Band at Rs.999 ⇒ Buy Now
Mi Smart Band 3i at Rs.999 ⇒ Buy Now
Women's Branded Jecket ⇒ Buy Now
Women's Branded Jecket ⇒ Buy Now
---
🔥Metronaut Men clothing Min 70% Off
Women Branded Jeans up to 86% off
🔥Pre-Book Deal : Upto 55% Off On Popular Brand Beauty Products